Prep 10 mins
Cook 40 mins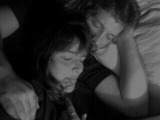 Serve this bread warm with whipped cream, ice cream or applesauce.
Directions
Preheat oven to 350 degrees. Grease a 9 inch square baking pan.
In a bowl stir together flour, baking soda, salt, ginger, cinnamon, nutmeg, allspice and pepper.
In a large bowl mix together the melted butter and molasses.
Stir in the water until well mixed.
Add the eggs and mix to combine.
Add the dry ingredients and mix until just combined.
Pour into greased baking pan and bake for 30-40 minutes or until a toothpick inserted in the center comes out clean.
Most Helpful
This easy to follow recipe was perfect for my DD and one of her little chums ( both aged four) to make with me.
No need for a mixer, so the girls had a whale of a time mixing it up by hand, and measuring out little spoonfuls of spices-not to mention licking out the bowl afterwards.
It was quite mild in flavour, and not overly sweet either.
The girls enjoyed the fruits of their labour soon after it emerged from the oven, along with my DS, who arrived on the scene after the smell wafted over to him.
A great recipe for the kids-thanks guys!

This is a mild gingerbread. I made 3/4 of the recipe and used an 8" round cake pan because I'm not in love with the harder corners that you get with a square pan. Simple to make, you don't even need to mess up the mixer. This is a lovely way to welcome Fall (we have had 3 cold rainy days in a row). I had a slice still warm for lunch and it was very nice. Made for Photo Tag.

This was my first time making a gingerbread that wasn't cookies. It had nice spice and wasn't too sweet. I added a dollop of Cool Whip to each serving, but I think I might frost the rest with a cream cheese icing for something a little extra special. Thanks, 2Bleu!!