rarambo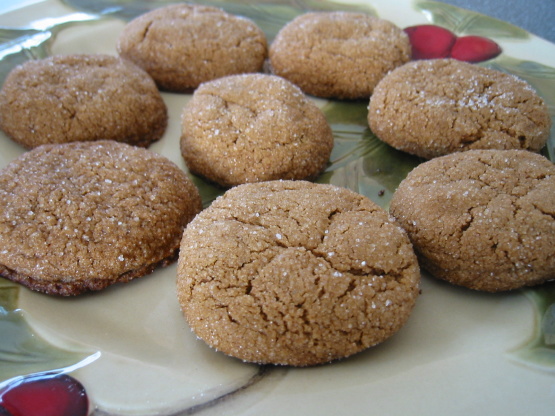 Posting this as a candidate for my Christmas cookie trays. You can omit the chopped crystallized ginger and increase the ground ginger to 1 1/2 teaspoons, if desired. I have not yet tried these but would welcome feedback if you get to them before I do. Preparation includes 20 minutes freezing time.

I made a few small changes to this recipe. I used dried ginger as I had no crystallised and I substituted Golden Syrup (the Australian one) as we don't use molasses often here in Oz. They still came out seriously yummy - good enough to give away as gifts for Xmas - and they recieved the seal of approval from my 13 year old son!
Beat brown sugar and butter at medium speed of a mixer until light and fluffy. Add molasses and egg white and continue beating. Stir in crystallized ginger.
Lightly spoon flour into dry measuring cups; level with a knife. Combine flour, wheat germ, baking soda, ground ginger, and cinnamon. Stir into molasses mixture. Cover bowl and freeze 20 minutes.
Preheat oven to 350°.
Lightly coat hands with cooking spray. Shape the dough into 30 balls, about 1 tablespoon each. Roll the balls in the granulated sugar. Place the balls 2 inches apart on baking sheets coated with cooking spray.
Bake for 10 minutes. Cool cookies on pans for 3 minutes. Remove from pans, and cool the cookies completely on wire racks.