Gibna With Tamatum or Cheese With Tomatoes
PetsRus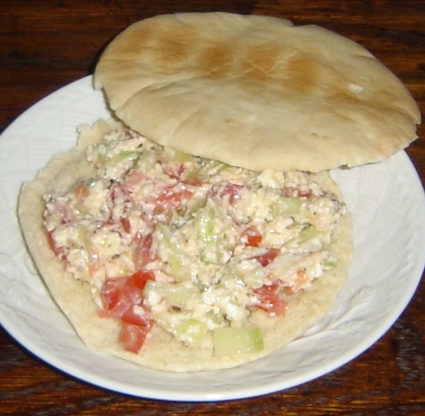 My husband brought this delightful recipe with him from Egypt. It is a quick and easy sandwich spread or it can also be used as a dip mix. We make this often since we both enjoy cheese.

This has become my latest summer lunch addiction! Its fresh, cheesy, crunchy and easy to put together. I have also made it adding some dried mint and a small crushed garlic clove. Cannot buy Bulgarian feta cheese here, don't even know how that tastes or what texture it has, so I used the Greek feta that is readily available here and added olive oil to the mix.
Use a fork to mash the cheese in a medium mixing bowl.
Add the tomatoes and cucumber.
Mix well.
Add in some of the oil if the mixture is too dry.
Fill each half pita bread to eat as a sandwich or serve the dip and pitas as an appetizer.