Cynna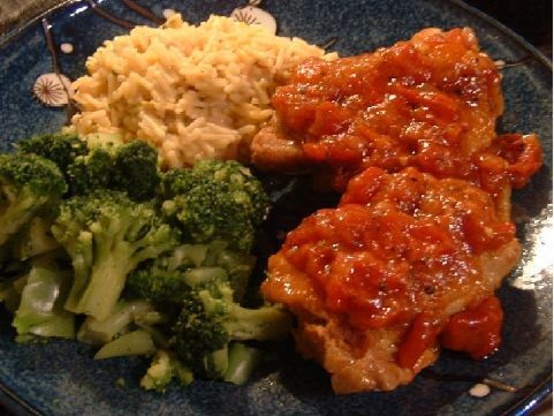 I adapted this recipe from "Down Home With the Neely's". I switched it up to my own tasting. I served it with Funeral Potatoes, Funeral Potatoes and creamed corn. The sauce that the chicken makes is great over the potatoes. I added a couple of breasts for my kids. I hope you like, as well as, your man.

We really enjoyed this. I used 8 boneless, skinless thighs, diced roasted tomatoes and Italian seasoning since that's what I had on hand. I also had half a red bell pepper that I threw in with the sliced onions. Wonderful flavor and easy preparation. Thank you!
In a 12 inch skillet, heat oil.
Season chicken with salt and pepper.
Brown chicken for about 5 minutes on medium heat. Turn chicken to do the same on the other side.
Remove chicken to a plate for later use.
Drain pan of all but 1 tbl of oil.
Add onions. Saute until tender, about 5 minutes.
Add white wine and chicken stock to the pan.
Turn heat to high and boil until reduced in half.
Now add rosemary, tomatoes, lemon pepper and return chicken to pan.
Cover and simmer for 40-50 minutes.