German Meat Balls With Bell Pepper Sauce - Hackfleisch Kuechle
sonnyu28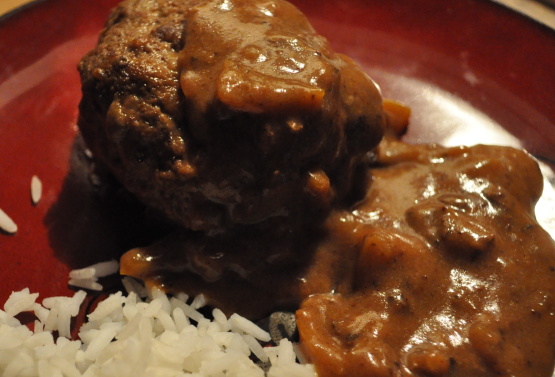 These are "Hackfleisch Kuechle" translating roughly into Ground Beef Meat Balls... Its a great versatile dish that can be served with mashed potatoes rice or even french fries.. Left over meat balls are great cold, sliced in half in a Kaiser Roll!!!
Dice bell pepper and onion and set aside.
Mix ground beef with egg, bread crumbs, mustard and 1/2 of your diced onions.
form roughly 6 meatballs (each meat ball should fit into your cupped hand and roll in some bread crumbs and pad lightly on both sides to flatten them on 2 sides.
Heat oil in a deep pan and brown meatballs harshly on both sides until nice dark and firm crust has formed (approximately 5 min on each side), take care to only turn them once
Remove the meatballs from the pan an set aside.
brown remainder of your onions together with the bell pepper in the left over oil/browning juices.
Ad water in small steps to loosen all the browned particles from the pan to create a nice dark gravy. Finish the gravy with some cream and the tablespoon of gravy mix to thicken it.
Place the meatballs back into the gravy and let all simmer for 5 more minutes.
Serve with your choice of sides.