German Easter Eggs (Ostereier)
gemini08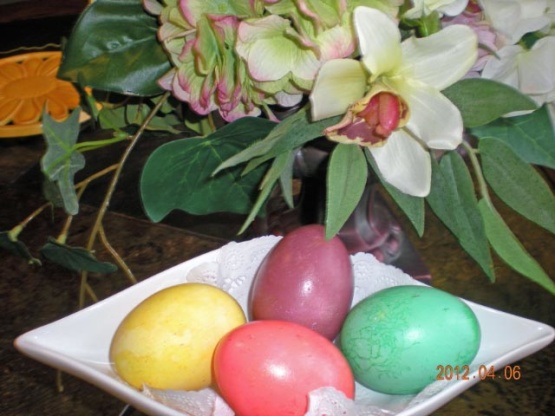 Thought I would share this simple, old-fashioned method for beautiful bright and shiny colored Easter eggs. My mother and German Oma made Easter Eggs this way, ever since I can remember. The eggs can be dyed with store-bought dyes or by boiling the eggs with natural substances such as onion skin, tea, beetroot juice, spinach, nettle roots and leaves, alder or oak bark. Vinegar added to the water makes the colors brighter, and rubbing with either bacon fat or salad oil produces a shine.

Loved the idea! These eggs turned beautiful; subtle pastel colors without any artificial food colors. After letting them dry, I rubbed them with oil for a gorgeous sheen. This was so much fun, I will never use food colors again on my easter eggs.
4/12/2012 UPDATE: I used 3 tsp tumeric in a cup of hot water with one tsp vinagre for yellow, the green is made with spinach water, the pink is made with beet juice. The purple egg was dipped in all 3 colors, back and forth. It takes a while for the colors to develop, don't be in a hurry when you make them but the endresult is really worth it.
12

hardboiled egg, colored (we dye them in mugs of boiling water with store-bought dye, with a little vinegar added to the water)
bacon grease or salad oil, for rubbing
When hardboiled colored eggs are completely cool and dry, rub them with bacon fat or a little vegetable oil, to produce a nice shine.
Arrange them in an attractive basket or platter lined with green Easter "grass".
Keep eggs cool until it's time for the Easter Egg Hunt.