Gebna Makleyah (Egyptian Oven-Fried Cheese)
Nif_H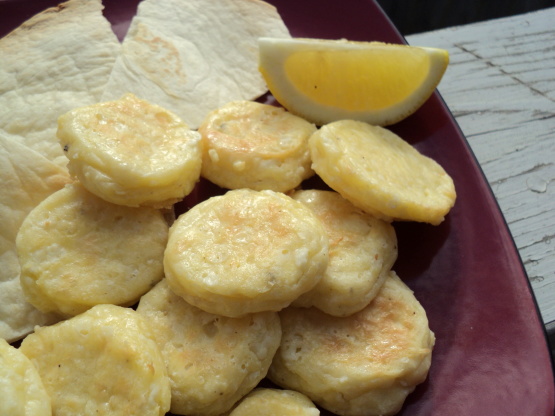 I found this recipe on the Food By Country website which stated that "in Egypt, cheese with bread is frequently served at meals. Here, oven-fried cheese is served with lemon wedges and pita triangles." You can easily vary the recipe to suit your tastebuds by adding tomatoes or other vegetables, or vary the cheese by using a traditional Egyptian white cheese, such as gibna beyda, instead of crumbled feta.

Top Review by Nif_H
Tasty little morsels! I tried to make this into ball shapes, but after using 3 tablespoons of flour, I gave up. They ended up being more like discs and they are great! I put a large soft tortilla in the oven to brown when they were cooking and cut that up to eat the cheese on. I also really like the zing of the fresh lemon juice. Made for my adopted chef for Fall PAC 2011. Thanks NorthwestGal! :)
1

cup feta cheese, crumbled

1

tablespoon flour

1

egg
salt & freshly ground black pepper, to taste

2

tablespoons olive oil
lemon wedge (optional, for serving)
pita bread, cut into triangles (optional, for serving)
Preheat oven to 400°.
Place the cheese, flour, egg, salt, and pepper in a bowl and mix well with very clean hands. Roll the mixture into 1-inch balls. If the mixture seems too loose to hold its shape, add a little more flour. If the mixture seems too dry, add a bit of lemon juice, vinegar, or water.
Pour 2 or 3 Tablespoons olive oil onto a cookie sheet to grease. Arrange the cheese balls on cookie sheet, rolling them around to coat thoroughly with the oil. Bake 5 minutes at 400°.
Wearing an oven mitt, shake the baking sheet to turn the cheese balls, and bake 5 more minutes or until golden brown.
With a spatula, transfer the cheese balls to a paper towel.
Serve the cheese balls while still warm, with lemon wedges and triangles of pita bread.