chiclet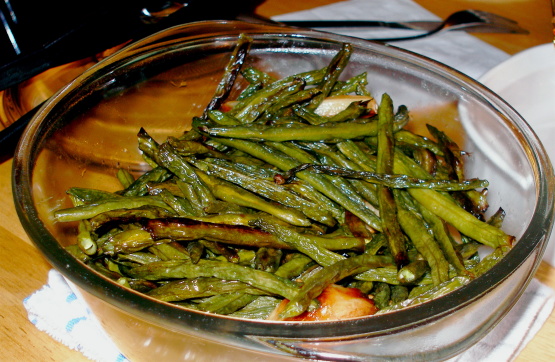 So you thought green beans had to be boring, did you? Thought your only option was to steam them and then drench the poor things with butter? Well I've got news for you: the Green Bean Revolution will not be televised! But it will be posted here at Recipe*zaar. OK, maybe that was a bit melodramatic...seriously though, these are great beans that are always requested and always complimented- even by veggie hating boyfriends and brothers ;)

Top Review by Nikoma
These are good but they need to be watched carefully. Mine went from green to black fairly fast in their last minutes. Great for munching :) I used a mix of fresh green beans and wax beans - just for future chefs notice the wax beans don't turn out the same - they get sort of chewy so I don't suggest using them. Will make the green beans again.
Preheat oven to 400°F.
Toss beans and garlic cloves with salt and oil. Spread in a single layer on 2 baking sheets and roast 35-45 minutes, until they are browned and blistered and you like them.
Serve warm or at room temperature.