Garlic Poppy Seed Spirals
jonesies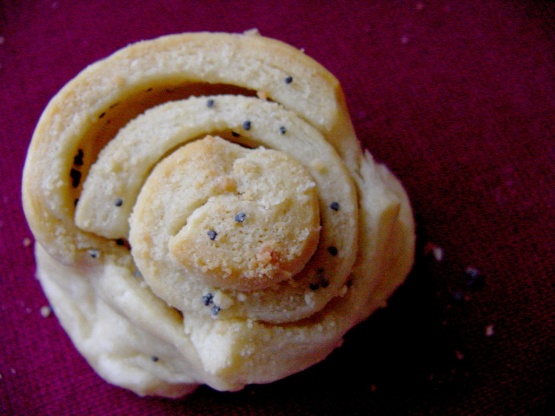 This recipe comes from the May/June 2007 issue of Simple & Delicious. It is attributed to Stacey Scherer from Macomb, Michigan. Her recipe called for 1 teaspoon dried minced onion, not having this I used onion powder. This recipe would be great with some powdered cheese or even Italian herbs. This is a great way to serve pull-apart bread with pasta, soup or salad.

Top Review by Ms B.
I prepared these instead of regular dinner rolls with a meal of recipe #181566, recipe #55678, recipe #47102, and a variation of recipe #51349. They worked out perfectly. I did roll each entire slice in the butter mixture before placing in the pan to coat completely with the extra flavor. We enjoyed these, and will make again.
Preheat oven to 350 degrees.
In a small bowl, melt the butter in the microwave for a few seconds; stir in the garlic powder, onion powder and poppy seeds.
Remove the dough from the package and cut into 10 equal slices; dip one side of each piece into the butter mixture and arrange the cut slices buttered side up in a 9-inch round baking pan that has been sprayed with non-stick cooking spray.
Brush with the remaining butter mixture, place in preheated oven and bake until golden brown, approximately 15 to 16 minutes.