lazyme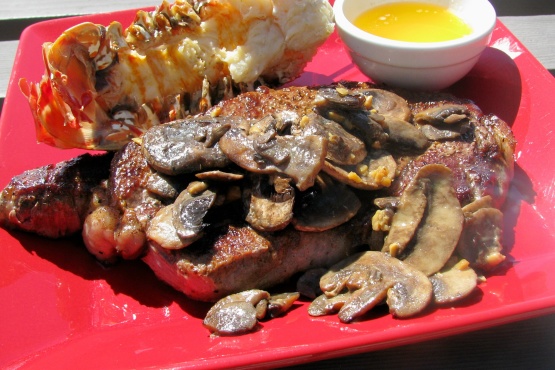 It's easy to dress up rib eyes wit mushrooms and garlic for a special steak dinner. This recipe gives a stovetop method, but you can grill the steaks if you prefer.
Sprinkle steaks with pepper and salt. In a large skillet, melt 1 tablespoon butter. Cook the steaks for 2 minutes on each side or until meat reaches desired doneness (for medium-rare, a meat thermometer should read 145*; medium, 160*; well done, 170*) Remove and keep warm.
In the same skillet, cook the garlic in 1 tablespoon butter for 2 minutes. Remove garlic and set aside. Add mushrooms and remaining butter to skillet; saute for 5 minutes. Stir in broth. Bring to a boil; cook and stir over high heat until liquid is absorbed. Add reserved garlic. Serve over steaks.