FLKeysJen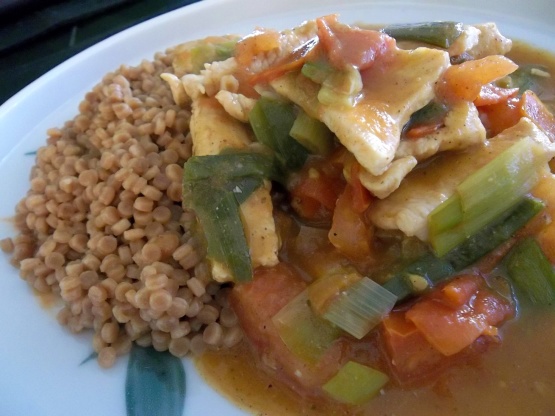 This is delicious! It is a low fat recipe, without the low fat taste. The exotic spices of garam masala make this dish excellent to serve at any time. I cut the chicken breasts up so that the meat can absorb the wonderful spices easier. This is fabulous!

This was super easy and so tasty! I used the Fit and Lean chicken breasts because they cook so fast! I used grape tomatoes and just halved them they made quite a presentation so brilliant and tasty because of the shorter cook time. The green onions were pretty too! I have to say the aroma in the house was unbelievable! I used to live in Saudi Arabia and it reminds me of some of the traditional food I ate while there. Mmmm good!
Heat oil in skillet on medium-high heat. Cook chicken 3 minutes or until lightly browned. Turn chicken. Add green onions. Cook and stir onions 2 minutes longer.
Stir in tomatoes, garlic salt and water. Sprinkle 1 1/2 teaspoons of the garam masala over chicken and vegetables. Bring to boil. Reduce heat,cover and simmer 10 minutes, stirring occasionally or until chicken and vegetables are tender.
Stir remaining 1/2 teaspoon Garam Masala into skillet. Bring to a boil. Reduce heat. Cook 5 minutes longer, stirring occasionally.