Fully Loaded Caramel Apples
Pamela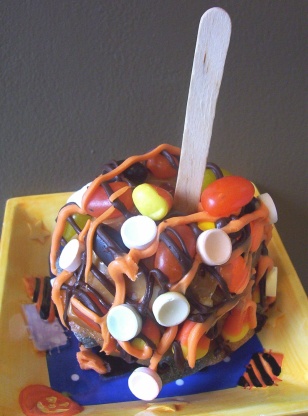 A great use for all that Halloween Candy. I made these with a girls club and they were a huge hit!

I made these for Halloween (sorry so late, trying to catch up on reviews). We liked them very much I just couldn't get the caramel to stay on the apples. It all slid off while cooling. I'm not done with this recipe, I will try again and just use a different approach. Kids loved them anyway as did us adults.....Stephanie
12

medium apples

12

wooden sticks

700

g caramels (about 100 pieces)

4

tablespoons evaporated milk

1

cup assorted decorative candies (jelly beans, gummy worms, smarties, etc.)
1⁄2 cup chocolate chips
Wash, dry and skewer the aples onto the stick.
Melt the caramel and evaporated milk together in a glass container and microwave on high for 30 seconds.
Repeat at 30 second intervals until mixture is smooth.
Plunge the apples into the caramel mixture and twist to coat evenly.
Place them on a wax paper covered cookie sheet.
Press the candies into the warm caramel.
Cool slightly in fridge to set candies.
Melt chocolate chips, (you can also use orange candy melts)transfer to a ziploc bag.
Cut off the end of the ziploc bag and drizzle chocolate over the apples.
Eat and Enjoy :).