diner524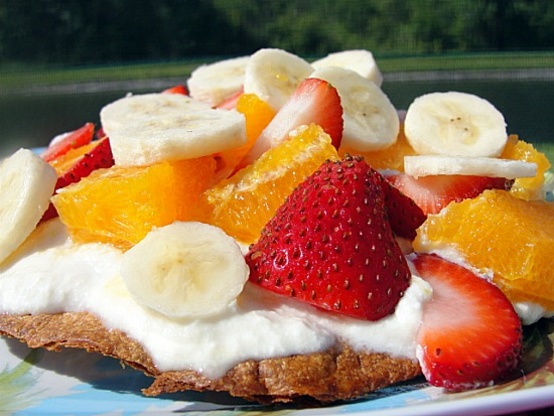 This nice fruit Tostada makes a good breakfast. Can change the fruit to fit what is currently in season.

I didn't have any flour tortillas on hand and didn't have time to make any but corn tortillas worked out well. I replaced the ricotta with cottage cheese and instead of stirring the yogurt and fruit together I added them in layers. The fruit used: blueberries, oranges, golden kiwi, nectarines, bananas and strawberries. I think I would prefer flour tortillas over corn. Perfect for breakfast, brunch or light snack! Will make again! Reviewed for Veg Tag/September.
Pre-heat oven to 400 degrees.
Combine water and 1 teaspoon vanilla.
Lightly coat both sides of tortillas with spray. Brush each side with water mixture.
Place on wire rack on baking sheet. Bake at 400 degrees for 6 to 8 minutes or till lightly browned.
Combine ricotta, yogurt, 1tablespoon lemon juice, sugar, lemon peel and 1 teaspoon vanilla in a small bowl.
Spread equal amounts on all 4 tortillas leaving about 1/4 inch edge.
Place 1 tablespoon lemon juice, orange, mint or basil, banana, and strawberries in a bowl and gently toss to combine. Spoon equal amounts on top of each tostada.
Garnish with mint or basil sprigs.