Redsie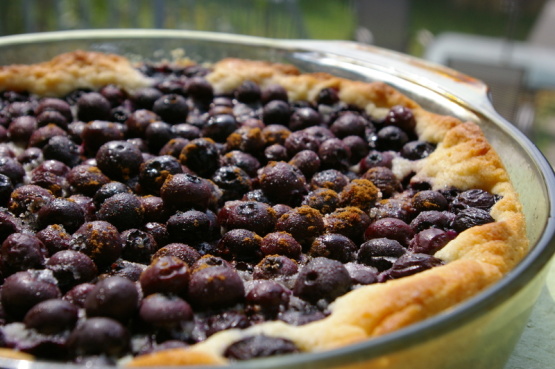 This recipe came from a story in Oprah's magazine. I have made it dozens of times, and love its simplicity. The recipe suggests using tart plums, ripe peaches, or Granny Smith apples. I have also had success using frozen mixed berries and fresh pears, as well as the suggested fruits. It is very adaptable! I bake this in a deep-dish glass pie plate.

Nice and easy dessert. We enjoyed this cake for an after lunch and dinner treat. I used apples. We do have a really sweet tooth and DH thought this could be more sweet. Maybe it was my apples. I would like to try with peaches. Thank you Susiecat for a easy dessert. Made for Aus Swap #22.
Preheat oven to 375°F Grease a 9-inch round pan.
Sift flour, baking powder and salt into a small bowl.
In a medium saucepan, melt 6 tablespoons butter over low heat. Stir in 6 tablespoons sugar and let cool 10 minutes.
Add egg to butter/sugar mix, stir well.
Stir in flour mix, spread dough in pan with the back of a spoon.
Arrange fruit slices in a circle filling in to the center, press lightly into the dough.
Drizzle fruit with lemon juice and sprinkle with remaining 4 tablespoons sugar.
Sprinkle with cinnamon and dot with remaining 2 tablespoons butter.
Bake 25 to 30 minutes, or until fork inserted in center comes out clean.
Cool on a wire rack and serve warm or at room temperature.