alligirl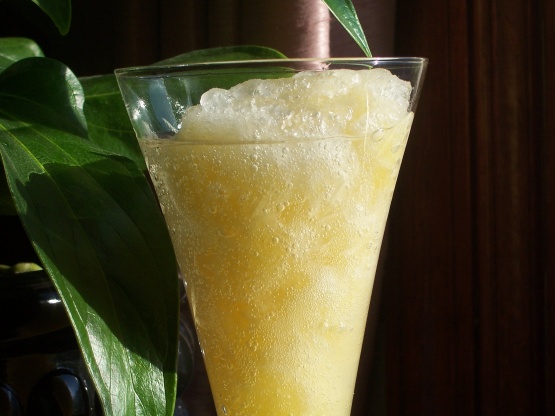 Torn from a magazine a while back but untried by me as yet.

Kate, this is a delicious 'slush'! I reduced the recipe by half, but when I make next summer, I'll certainly be making the full amount! I think this would also be good with coconut rum, or any flavored vodka that you may be partial to....Thanks so much for sharing!
3

cups water

1

cup sugar

3

cups orange juice
1 1⁄2 cups pineapple juice
1 1⁄2 cups apricot juice
1 1⁄2 cups vodka
soda water, to serve
Place water and sugar in pan, stir over low heat till sugar dissolves.
Bring to the boil, boil rapidly without stirring for 2 minutes then cool.
Combine juices with vodka and sugar syrup.
Pour mixture into 2 large cake pans, store in freezer.
To serve - fill a glass 3/4 full of slush, top with soda water.