Prep 10 mins
Cook 50 mins
2 (16 ounce) cans fruit cocktail
1⁄4 cup sugar (or to taste)
2 tablespoons cornstarch
1 teaspoon cinnamon
1⁄16 cup butter (1/8 stick)
1 egg, lightly beaten
1 double crust pie crust (I use the Pillsbury pre-made crusts)
Directions
Drain juice from fruit cocktail, reserving juice.
Mix sugar, cornstarch, and cinnamon and add to juice.
Add butter and cook over low heat until mixture thickens.
Line pie plate with bottom crust.
Add fruit and thickened juice.
Top with second crust.
Brush with egg wash.
Bake at 375 degrees for 50 minutes or until bubbly and brown.
Most Helpful
I've never used fruit cocktail to make a pie before, but I will be again because this was amazing!! So tasty and easy to make. Love the fact you don't waste the juice from the tinned fruit either, makes the most amazing sauce for the fruit!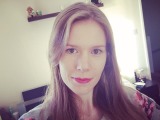 I'm new at pie baking & this is my 1st pie! Tried recipe and I'm so happy it works! Easy & tasty! Thanks for sharing Rachel!
OK, I'm loving this recipe, but it's not going to help me lose weight, is it? LOL (Suggestion: Increase sugar to 1/2 cup.)