Frugal Gourmet's Beef With Bleu Cheese
Zurie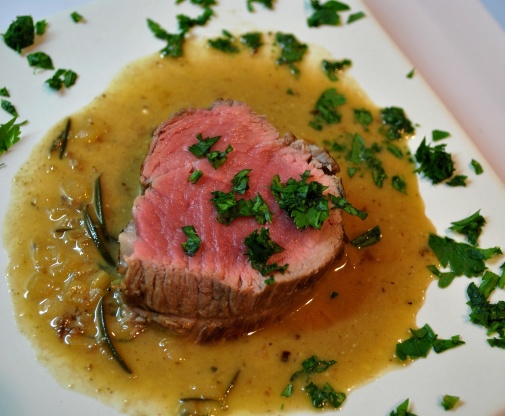 This recipe is by Jeff Smith and was published in his book "The Frugal Gourmet". Hope you enjoy! ****Cooking time on this may vary greatly depending on how well done you like your steak.

Top Review by Zurie
Oh wow, Queen Dana, this is great! I used beef tenderloin (not sure what "round steaks" were as the cuts of meat have different names in different countries. Husband looked at the cooking process and laughed, saying, "If that's 'frugal' ...!" No, it's rich and decadent! As the photo shows, we like our beef rare as well! I did not have 'glace de viande" -- no home cook has it, I suppose -- but I had a handy substitute. We get concentrated beef stock in 25 g sachets, which is probably a little more than 1 Tblsp (supposed to be mixed with a cup of water for beef broth). I simply added a sachet to the reduced wine. It worked beautifully, but those who do have these concentrated beef stocks, beware -- do not use any extra salt as the resulting sauce IS salty. (I am almost certain real restaurant 'glace de viande' would also be salty). I used a top-rated S A blue cheese and real butter. I did add a good squeeze of lemon to the sauce to cut the richness a little, and I didn't serve all the sauce with the beef, but served some extra in a little pot: the sauce IS rich, and that way people can decide how much they want with their beef. Otherwise I did not change anything. This is a fine-dining recipe suitable for dinner guests. Thanks, Queen Dana, for a winner!!
Heat a large frying pan. Add the olive oil and the steaks to you perfection. (I like mine rare, very rare.) Remove to a warm plate and add the wine and the garlic and onion. Sauté just a minute and deglaze the pan by scrapping the bottom with a wooden spoon. Allow the wine to reduce be half and then add the glace de viande and the rosemary. Simmer for a moment and add the butter mixed with the cheese. Mix with a wire whip until smooth.
Place a bit of the sauce on each plate and then a piece of the stake on top of the sauce. Add the salt and pepper at the very last, as salt will dry out the meat during the cooking process. Garnish with parsley.