Easy and delicious! The original recipe calls for 1/2 c flaked coconut, toasted and 1/2 c chopped pecans toasted to put on top, but I leave them off for my picky family. Instead of 1 1/2 c m&ms, I will often use only 3/4 cup and chop up kit kat bars or other candy bars to use for the second 3/4 cup. I also usually use the mini milk chocolate baking M&Ms
Directions
In a saucepan over low heat, melt butter, cocoa, and sugar.
Remove from heat; stir in flour til smooth.
Add eggs and beat til smooth.
Spread onto a greased 12-inch pizza pan.
Bake at 350 degrees for 15 minutes or til toothpick inserted in center comes out clean.
Cool.
In a mixing bowl, beat confectioner's sugar, peanut butter, vanilla, and enough milk to achieve spreading consistency.
Spread over brownie crust.
Top with M&Ms.
Most Helpful
We all loved this recipe from TOH! I came here to post but it was already posted. I cheated and used a box brownie mix (bkz I didn't have unsweetened choc), then the icing (which we really enjoyed) and the pecans and M&M's. My son doesn't like coconut so we used crused oreos. We are planning on serving this for one of our Christmas desserts. Thanks for posting!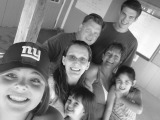 I made this for a kids' party and it was devoured! I received lots of compliments on it. My only problem with the recipe was the amount of icing. It was extremely thin so I made a second batch. I used the toasted coconut the recipe originally called for and mini chocolate chips in place of the M&M's. Very easy to put together with impressive visual and flavor results. Thanks!