diner524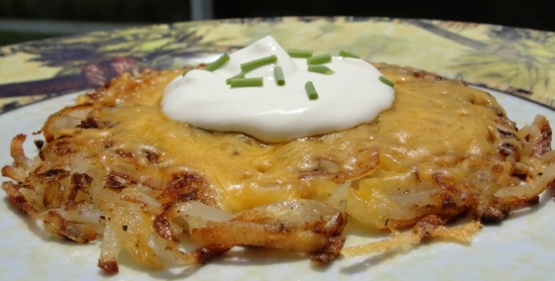 This is a recipe from a cookbook called "Classic International Recipes". It is supposed to be one of the national dishes of Switzerland and is often served daily. It is often served with "Veal with Cream Sauce". The only thing I changed was to add some garlic (as usual). Please note: This is supposed to make one big cake, that is then quartered to serve 4. Chilling time is not included in the cooking time....I cook the potatoes in the morning, and prepare the cake in the evening.

Top Review by Nif_H
This is great! It has a different texture than most potato pancakes because this one is crunchy on the outside and smooth on the inside. I would maybe add an egg for it to bind a little bit more but I'm probably saying that because I completely destroyed it when I tipped it onto the plate! ;) I used a mixture of mozzarella and cheddar for the cheese because that's all I had on hand. Made for Went To The Market tag game. Thanks breezermom! :)
Wash the potatoes.
In a large covered saucepan, cook the whole potatoes in enough boiling salted water to cover for 20 to 25 minutes or until almost tender; drain.
Chill several hours or overnight.
Peel the potatoes; shred enough to make 3 cups.
Combine the shredded potatoes, onion, garlic, salt, and pepper.
In a 10-inch skillet, melt the butter.
Using a spatula, pat the potato mixture into the skillet, leaving a 1/2 inch space around the edge.
Cook potato mixture, uncovered, over low heat about 20 minutes or until the underside is crisp and golden brown.
Use a spatula to loosen the potatoes from the skillet.
Place a plate or baking sheet on top the skillet.
Invert the skillet to remove the potatoes.
If necessary, add more butter to the skillet.
Slide the potato cake back into the skillet, browned side up; cook the unbrowned side for 5 minutes.
Sprinkle the shredded cheese on top of the potato cake; cover, and cook 5 minutes more or until the potatoes are golden brown and the cheese is melted.
Cut the potato cake into four wedges and serve.
Garnish with sliced green onions, cut parsley, or sour cream if you wish.