Fried Grit Cakes With Eggs and Tomato Gravy
WiGal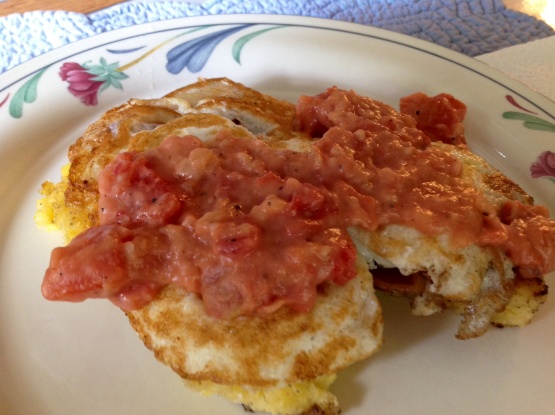 This is a unique Southern version of Eggs Benedict. It is common where I live for restaurants to serve Shrimp Creole or other dishes on top of fried grit cakes instead of over rice or noodles. The recipe uses leftover grits, but you can make them just for the recipe! Feel free to liven up the grit cakes with additional seasoning! This version of eggs benedict has the eggs served over fried grit cakes with country ham and tomato gravy.

Top Review by WiGal
Can see why southerners love their grits! Plus uses leftovers. I can see this for a special breakfast. We had it for dinner and hubby helped me coordinate. My gravy came out too red because my can was bigger than suggested. I also drained them and now wonder if I should have done that? Thank you for recipe.
Take the grits after they have cooled and mix in the Parmesan Cheese and garlic powder. Add some cayenne pepper if you like things hot! Spread the mixture on a large baking sheet. Place in the refrigerator to cool for 30 minutes.
Take a large biscuit or cookie cutter (you can use shaped ones for the holidays!) and cut out the grit mix.
Place 1 tbsp salt, 1 tbsp pepper, and 1/2 cup all purpose flour in a small bowl and mix well. Pour onto a plate and press the grit cakes into the flour to coat both sides.
In a skillet over medium heat add the oil to cover the bottom. When the oil is hot but not smoking, drop in the grit cakes, browning both sides. Remove and reserve.
Cook the country ham or Canadian bacon in another skillet, just until browned. Remove and place on a paper towel to absorb the grease.
Leave 1/2 cup grease in the skillet for the tomato gravy. (You can use bacon grease instead). Heat the ham or bacon grease over medium high heat. Add 2 tbsp all purpose flour and stir until well mixed, about 1 minute. Add 1 cup milk and stir until it boils. Add the tomatoes and return to a boil. Add the salt and pepper to taste. If it is too thick, add some water and stir.
Meanwhile, fry your eggs in the skillet you cooked the grit cakes inches
To assemble, place two cooked grit cakes on a plate. Place a slice of ham or canadian bacon on top of each grit cake. Place a gried egg on top of the ham or canadian bacon. Ladle the tomato gravy over the top and enjoy.