KateL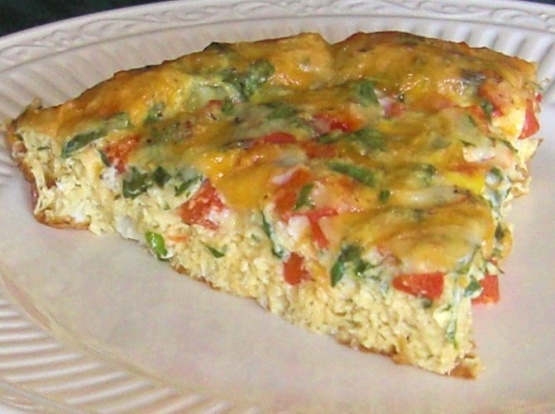 A very easy way to make breakfast, brunch, or supper for eight. This is wonderful with herbs picked right out of your garden.
Delicious!! Quick and easy, too. I used thyme, chives, and basil from my garden for the fresh herbs. Also, I used half red and half green bell pepper, and added in some red onion, tomato, and fresh mushrooms. I was out of colby/jack cheese so I used sharp cheddar instead. I baked this in a 9" glass pie plate for 30 mins. at 325 degrees. This didn't serve 8, as I ate half and my husband ate the other half. Yum! I served this topped with sour cream and salsa. Thank you for sharing this wonderful recipe...it is definitely a keeper!! *Made for 2009 Adopt A Tag*
Whisk eggs and water in a bowl.
Add herbs, red bell pepper, black pepper, and 1/2 cup of the cheese. Mix together.
Spray a quiche dish with non-stick spray. Pour egg mixture into it.
Top with the remaining cheese and bake at 350 degrees for 30 minutes, until fluffed and golden.
Slice like pie and serve with more fresh herbs for sprinkling on top. Goes well with melon slices and strawberries.