vrvrvr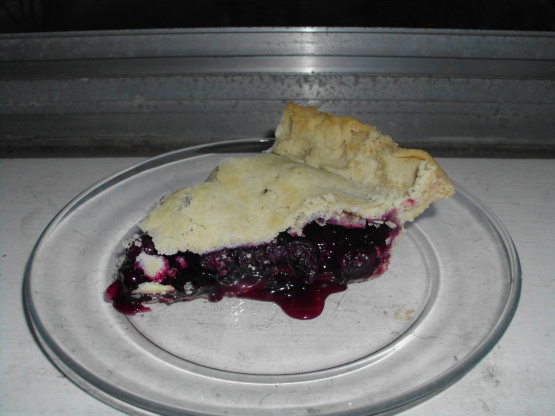 When it comes to preparing fresh fruit, the simpler the better. This pie is an anticipated summer treat every year. Prep time does not include making pie crust.

Delicious!! This is the first blueberry pie I have ever made. Okay, I admit that I used a store bought crust.... But I was amazed how tender the blueberries were without precooking them. Thanks for the recipe, I will certainly be making another!
Line bottom of 9" pie plate with crust.
Pour blueberries in mixing bowl and sprinkle with almond extract and lemon juice, mix gently.
Add sugar, flour and salt and stir to coat blueberries; pour into pie plate and dot with butter.
Place top crust, seal and vent; cover edges with narrow piece of foil.
Bake at 425° for 20 minutes, reduce heat to 350° and bake another 20-25 minutes until bubbling and browned; remove foil last ten minutes to brown edges if needed.
Remove from oven and immediately sprinkle top crust liberally with sugar; allow to cool.