Fresh Basil Pesto - Freezer Directions

This is how my family makes basil pesto - it is easy to make, store, and eat!
Directions
Put the basil, garlic, pine nuts, and salt in a food processor or blender and puree until smooth. Drizzle olive oil. Taste and add more salt if needed.
If freezing: line ice cube trays with plastic wrap. Scoop pesto into trays using 1-2 tablespoons of pesto per "cube." Freeze. Put in ziplock after solid. To use: Thaw and add cheese.
If using fresh: Add the cheese and process a few seconds until just incorporated.
Enough pesto for a pound of pasta and recommended it tossed with linguine, capellini or meat or cheese tortellini.
Most Helpful
I make my pesto with roasted garlic instead of raw. I roast 10 or more heads of garlic, squeeze them when cool enough to handle and place the pulp in empty chocolate trays (I put some olive oil on the trays for easier removal) , cover with wax paper and into a ziplock bag and in the freezer. Anytime I need toads garlic, I take one of the "cubes".
Nice, nice! I know pesto recipes by heart, but decided to scroll through the recipes on this site. Gee, there are many! This is great. Unfortunately I had to use walnuts instead of pine nuts. I could not find pine nuts near where I live, and pine nuts are now terribly expensive! (Can one go, you think, to a state pine forest grown for paper, collect pine cones, and try and harvest the pine nuts?? ROFL!) The tomatoes on the photo are all from our organic garden -- we can't keep up!! -- and I could supply a lot of restaurants with fresh basil right now! Thanks!!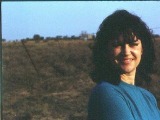 This is a wonderful, easy pesto that you can enjoy all year!
Since this is my recipe, of course I think it's great! I love it when you cook for me and my recipes turn out great!
Love,
Mom