Fresh Basil Pesto - Freezer Directions
Zurie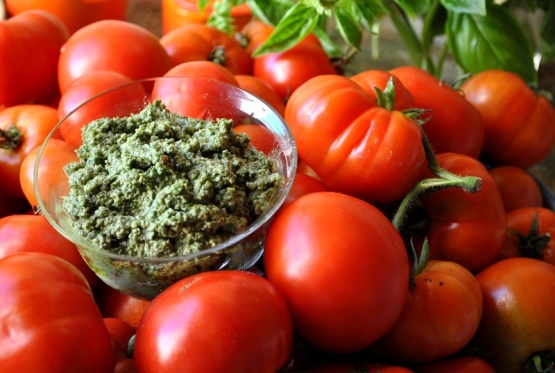 This is how my family makes basil pesto - it is easy to make, store, and eat!

I make my pesto with roasted garlic instead of raw. I roast 10 or more heads of garlic, squeeze them when cool enough to handle and place the pulp in empty chocolate trays (I put some olive oil on the trays for easier removal) , cover with wax paper and into a ziplock bag and in the freezer. Anytime I need toads garlic, I take one of the "cubes".
Put the basil, garlic, pine nuts, and salt in a food processor or blender and puree until smooth. Drizzle olive oil. Taste and add more salt if needed.
If freezing: line ice cube trays with plastic wrap. Scoop pesto into trays using 1-2 tablespoons of pesto per "cube." Freeze. Put in ziplock after solid. To use: Thaw and add cheese.
If using fresh: Add the cheese and process a few seconds until just incorporated.
Enough pesto for a pound of pasta and recommended it tossed with linguine, capellini or meat or cheese tortellini.