French Coffee (Caffe Francais)
Rita1652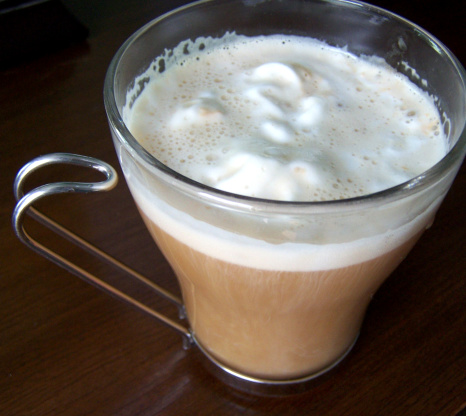 A great treat from France! For a twist, you add the topping before the coffee. The dollops of freshly whipped sweetened cream will rise through the coffee for a floating cloud effect. Adapted from About.com. Cook time is time to brew coffee.
1⁄2 cup whipping cream, chilled (heavy cream)
1⁄8 cup powdered sugar (confectioners sugar)
1⁄2 teaspoon vanilla
1 1⁄2 cups coffee, hot (I use decaf)
Beat the cream until it's rich and fluffy, with soft peaks (or use already whipped cream from a can).
Mix in the powdered sugar, and continue to beat until you have stiff peaks.
Split whipped cream between 2 mugs.
Add vanilla to the hot coffee, then pour over cream.
Serve right away, Don't stir!