Tanya H.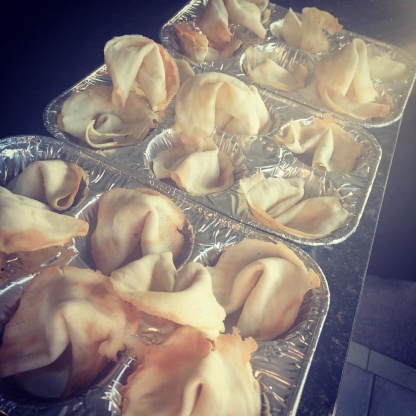 This is a great recipe that came from the Food Network, so I wanted to post it here (I was looking for a really good fortune cookie recipe on here). One thing, I did find that when I used the recommended tablespoon in putting the batter on the cookie sheet, the centers of the cookies were too "doughy" and the edges were golden brown, and the cookies broke when I tried to bend them into the fortune cookie shape. So, using a rubber bowl scraper, I put a small amount on the cookie sheet and just swirled it around until it was a nice, thin layer, about 3-inches in diameter. This worked perfectly! But, when the recipe says only make a few at a time, it's no joke! These harden quickly and unless you've got others in the kitchen to help or you move with lightning speed, I suggest only making 2 or 3 at a time.

For chinese night I made these for fun...I cant say it was a complete disaster, but I learned a few things about making fortune cookies. These spread alot in the oven. So, after the first batch I didnt spread them as thin..If they dont completely harden you can place them back in the muffin pan in a warm oven to harden up till crisp,but not to hot a oven as they will completely soften again and loose there shape..Individually wrap in press and seal and store in ziploc till serving time..Also,my problem with all the cookies was the messages stick to the cookies,eliminating the fun,reason way I made them. Next time I will place the message on the cooked side and fold over.But the kids were impressed with the idea anyways and they did look like fortune cookies and what they could eat of the cookie and not paper tasted good, everyone liked the flavor..Would I make these again? time will tell...But I know I have to give it another try... .
2

large egg whites
1⁄3 cup sugar

4

tablespoons melted butter, cooled
1⁄2 cup flour
1⁄4 teaspoon salt
1⁄2 teaspoon almond extract
1⁄2 teaspoon lemon extract
You will also need: 2 1/2 x 1/2-inch fortune strips.
Preheat oven to 350°F.
Grease a cookie sheet thoroughly.
Whip the egg whites on low speed until light and foamy.
Blend in the sugar and continue to beat until soft peaks form.
Pour in the melted butter, flour, salt, and extracts; mix until well combined.
Drop a tablespoon of the batter onto the prepared cookie sheet.
Using the back of a spoon, spread the batter evenly into very thin 3-inch rounds.
Alternatively, use the lid of a jar with a 3-inch circle punched out as a template, pour the batter in the ring, and remove.
Because you must work quickly to shape these cookies, bake just 3 at a time.
Bake for about 5-8 minutes or until the edges are a light golden color.
Remove the cookies with a spatula and place on a work surface.
Lay a fortune in the lower middle of the cookie, and fold in half to make a semi-circle.
Bend the edges up toward each other to make a crescent.
Drag the crease across the rim of a small measuring cup, with the ends facing down.
Cool in mini muffin tins to hold shape until crisp.
Repeat with remaining batter.