Forevermama's Banana Bread
Nif_H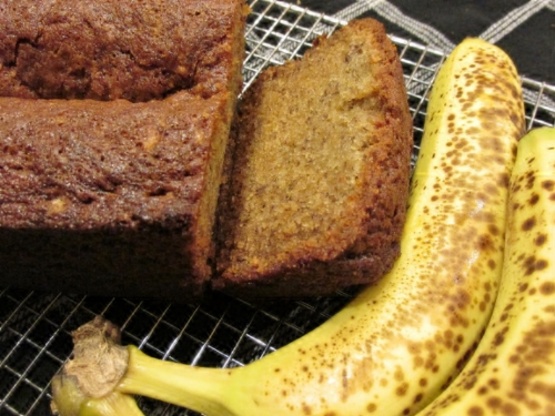 My hubby is forever asking me to make this bread. I've tried many banana breads through the years, but this is my tried and true and one I always make. Save those brown yucky looking banana's!! The more black, the better quality banana bread you'll reap. Place them in the freezer whole or mash and freeze.

Top Review by Nif_H
My house smells wonderful from this banana bread! The flavour is very good but a little sweet for my taste. My kids like the sweetness level though! I ended up baking this for over 1.5 hours because the middle just wouldn't cook. I would cut the sugar in half next time and I would try it again. Made for Went To The Market tag game. Thanks ForeverMama! :)
Combine flour, baking soda and salt and set aside. Cream butter with sugar until fluffy. Add eggs and buttermilk and mix well. Add flour mixture alternately with bananas, beginning and ending with flour. Stir in vanilla, banana extract (if using) and nuts (optional). Bake in a well greased 9 - 5 inch loaf pan at 350 degrees for 1 hour, or until a toothpick, inserted in center comes out clean.
NOTE: If you don't have buttermilk on hand, make your own. To your measurement cup add about 1 tablespoon of white vinegar or 1 tablespoon lemon juice. Let it sit a bit and you'll have your substitute buttermilk. The banana extract is my own addition, this is a huge help if your bananas are not quite brown/ripe enough, it'll boost the flavor. As a matter of fact, I always us it even when my bananas are perfectly ripe. It's a definate must if you want your product to stand out.