Foil Packet Cube Steak Dinner
Debber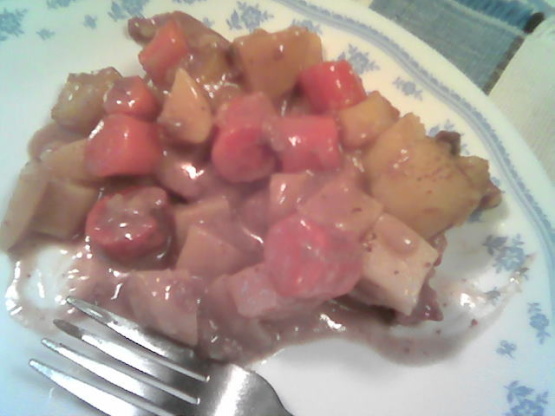 This is a very comforting, hearty meal and is so easy to make. My husband's favorite part is the beefy gravy. Note: A few people have commented on the vegetables being undercooked. In response, I have adjusted the cooking time for this recipe. Also, one person commented on the meat being tough. This is probably because cube steak is generally a cheap cut of beef. For better results, I have used and would suggest flank steak.

Top Review by Debber
We all loved this one! It really smelled good as it was cooking. There was a problem with the potatoes and carrots, though---they were still hard-as-rocks at the end of the cooking time, probably took at least another half hour before they were fork-tender. I just noticed (!!!) I completely forgot the celery! Ach! Otherwise, the kids (especially) loved this---reminded them of the "Hobo Dinners" I make for them to take along on their annual canoe-camping trip with Dad each summer (except I use hamburger--not steak...and add mushrooms, some other herbs, and a dab of butter). I used Recipe #223023--which worked beautifully--instead of a store-bought packet. Gotta love those make-at-home-cheaper mixes! *Made for PAC Spring 2007*
4

cube steaks (or one 2-lb. flank steak)

1

(10 ounce) can condensed cream of mushroom soup
1⁄4 cup milk

2

tablespoons dry onion soup mix
1 1⁄2 cups red potatoes, cubed into 3/4-inch pieces

2

stalks celery, sliced cross-wise into 1/2-inch pieces

1

cup baby carrots (or 1 cup large carrots, sliced)

1

tablespoon water
Preheat oven to 350 degrees.
Line a 10 x 13-inch cake pan with aluminum foil, leaving enough extra foil on the long and short sides of the pan to easily seal into a foil packet later.
Place cube steaks in aluminum foil in one layer.
Combine condensed soup, milk and dry soup mix thoroughly and spread mixture over the meat.
Arrange cubed (3/4-inch) potatoes (with or without skin), sliced celery (1/2-inch pieces) and baby carrots evenly over soup layer.
Sprinkle 1 tbs. water over all vegetables.
Seal the foil tightly, making sure that steam will not escape the packet.
Bake for 1 hour and 15 minutes.
Remove pan from the oven and allow to sit for 5 minutes before opening foil packet. If vegetables are not completely cooked, re-seal the packet and bake for another 15-20 minutes.
Serve immediately.
Notes: Instead of cubed steak, I've also used flank steak.