Annacia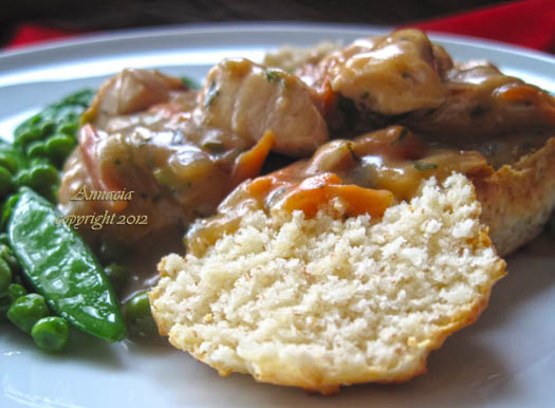 These turn nice and golden and have a slightly crisp outside with a fluffy, buttery inside. I like these because they taste so good and are healthier than the traditional version, using margarine instead of shortening, butter, or lard. Buttermilk can be subbed for milk for a tangier flavor. Feel free to post pictures, and thanks!!

I made these biscuits for breakfast this morning and all I have to say is WOW!!!!!!. I have been looking for a GOOD recipe and I have finally found it. I made the cut out biscuits and they were perfect. I only made a few teeny weenie adjustment: I beat an egg in with the milk before I added it to my flour mixture, I used a stick (8 tablespoons) of butter instead of margarine and I didn't roll my mixture. When I turned it onto my floured surface I gently kneaded it just to incorporate some of the flour because I still wanted it to be somewhat moist.After that I just patted and pressed it out to the thickness I wanted. I was able to cut a dozen med sizebiscuits. Boy did they fluff up! These are the best and the easiest biscuits I have EVER made and I have made my share. Thank you God's Sugarcookie
Preheat oven to 450°F.
Sift together dry ingredients, then add margarine and cut in until coarse and crumbly like cornmeal.
Add milk and mix with a fork.
On a floured surface, knead gently turning over several times. Roll out to 1/2 inch thickness and cut out biscuits. Place with sides touching on an ungreased cookie sheet.
OR drop by large spoonfuls onto an ungreased baking sheet with sides touching.
Bake for 9-12 minutes, till golden, turning around once halfway through for even browning.
Serve warm with butter and fried chicken!