Rita1652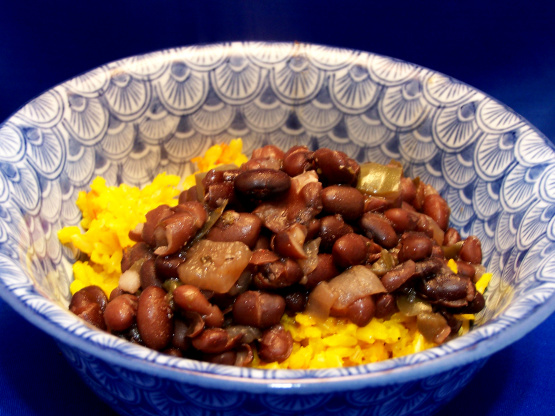 From The Best of the Best from America Cookbook by Gwen McKee & Barbara Mosely, c. 2008.

I use 3 garlic cloves, 1 tablespoon olive oil not the 1/2 cup called for, smoked turkey wings and skipped the slice of bacon. Added a minced jalapeno. Cumin is a must in black beans for me so it went in. I cooked for 3 hours after soaking the beans overnight. I wish I took a picture of the leftover the next day because it became very creamy and more flavorful. Served over saffron rice. Thanks!!!!
Cover beans with water. Bring to a boil and boil for 2 minutes. Remove from heat; cover pan and let stand for 1 hour.
Heat olive oil in skillet. Add onion, pepper, and garlic. Saute for about 5 minutes. Add to beans, Add bay leaves, salt, pepper, han bone, and bacon. Bring to a boil and simmer, covered, for 2 hours, or until tender, adding more water if necessary. Remove bay leaves and add wine vinegar. Serve with yellow rice, and ganish with scallions.
VARIATION: This dish can be improved through the use of any flavorful stock (chicken, ham, vegetables, dry white wine, etc.), rather than the water. Also, for added flavor, as dish simmers, consider adding 1/2 cup sliced, pimiento-stuffed olives, 1 teaspoon ground oregano, and/or 1/4 teaspoon ground cumin.
NOTE: To cook yellow rice, just cook rice as you would normally do, but add a drop or 2 of yellow food color. In Key West, most cooks use an inexpensive condiment called BIJOL, which gives rice a rich yellow color.