Flint's Original Coney Island

I've lived in Flint, Michigan my entire life, and I was brought up on Coneys. The recipe has always been kept "top secret", and every restaurant has a slightly different version. But my friend's grandmother opened and ran one of Flint's top Coney Island restaurants for many years, and she gave me this recipe. The original recipe calls for beef kidney, heart and suet. But guess what? That's what hot dogs are made from! That's why ground hot dogs are a good substitution. I've tried and tasted many copycat recipes for Coney sauce, but I'm convinced that this one is the best. Coneys are traditionally served using a steamed hot dog bun, a koegel vienna hot dog (any vienna hotdog will do) then topped with the sauce, yellow mustard and finely chopped onions. Yum! The friend also noted that if it tastes like something is missing.. add more cumin. By the way, Koegel Viennas are now available to order online!
Directions
Mix all ingredients in a heavy pan and cook over med to low heat until mixture cooks and becomes dry and crumbly.
If it seems too wet or greasy, add a few crumbled saltine crackers.
Best if made a day ahead and reheated in a frying pan.
Freezes well.
Note: I grind my hot dogs up in a blender with a little water.
I also chop the onions using my blender with water.
Most Helpful
excellent for us "dry " coney lovers...which I am!!! I grew up in the flint area and ate a the one that was right downtown in a small small dinethat in my memory was more like a train car...ANYWAY this sure satisified a long craving and tasted so wonderful too..thank you for sharing...
Of course the recipe is good, I've made versions of it myself for decade. However, a few corrections are necessary ... First off, the photo used is misleading. This is my photo (not the recipe author's) from http://micuisine.com/lunapiercook/?p=2345 and only the top coney in the image is of a version of the recipe. Secondly, this isn't remotely close to the original recipe, regardless of what a Brayan "relative" may have written in the comments. The real story of this recipe is at http://micuisine.com/flintconeys/?page_id=935 complete with images of the original articles where it was included and subsequent attempts to debunk the folklore. Yes, use this recipe, people really do enjoy it. But please be honest in how it's presented.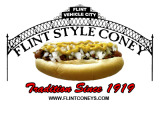 Love this recipe! Having grown up in Flint and Flint style coney dogs this recipe is as good as it gets.