Copycat Lafayette Coney Island Hot Dog Chili Sauce Detroit Style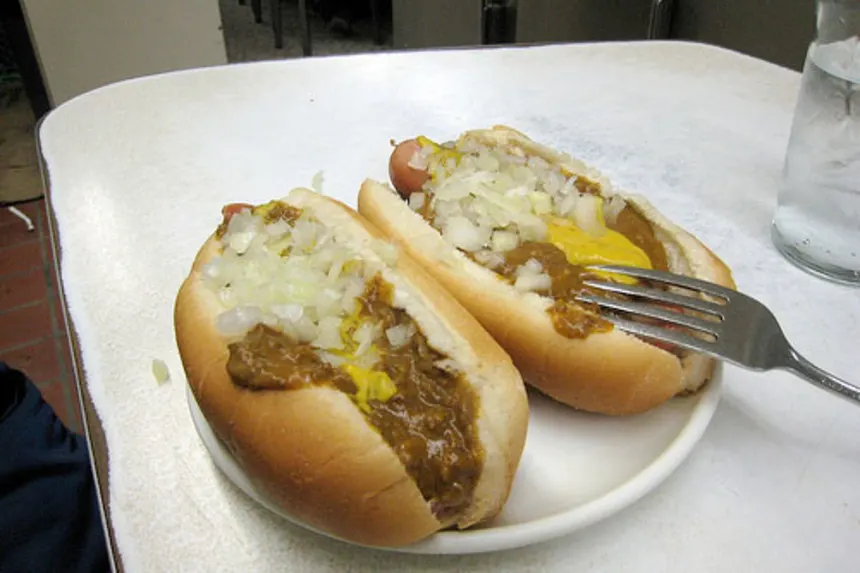 photo by soveria

Ready In:

4hrs 15mins

Ingredients:

16

Serves:

20
directions
In a large preheated pot, add lard (shortening), ground round, and cow heart (hotdogs), and simmer on medium heat until it seperates and browns. This mixture must be stirred regularly and mashed with a potato masher during process to create a kind of rough paste. Drain, but reserve the rendered fat and set aside for next step (yes, authentic Detroit style is kinda greasy).
In a cast iron skillet on medium-high heat, add the rendered fat. Slowly, add cracker crumbs 1 spoonful at a time, stirring contstantly to make a roux. It should be a paste consistency but still able to flow, so add additional fat (butter or shortening) or more crackers, if needed, and continue stirring until it turns a nice woody brown.
Add the roux to the meat pot along with chicken stock and simmer for 20 minutes at a slight boil, then add all remaining ingredients, and stir until mixed. Cover the pot and simmer for at least 3-hours (longer the better) stirring occassionally so it doesn't burn on bottom, adding water as necessary for proper consistency.
Take out 1/3 of the mixture and put it in a blender and puree until smooth, then pour it back into the pot. Continue simmering, uncovered, for another hour, stirring occassionally so it doesn't burn on bottom, adding water if too thick or more roux if too thin, as necessary for proper consistency.
When putting the sauce on your hot dog, the dogs must be grilled on a griddle or a cast iron skillet on medium low with a small amount of butter and vegetable oil. Constant turning of dogs is a must and they must never split open. You will be looking for a consistant light brown color with a darker line of brown on 2 sides. If dogs are straight they can be rolled back and forth regularily to insure even cooking with a large hamburger flipper. If curved use kitchen tongs and adjust next to the other dogs. NEVER BOIL A HOTDOG!
Steaming buns is the best way in a home enviorment a chinese steamer basket works well or you can wrap them in paper towells and microwave 3 at a time on high for about 20 seconds. Open bun place dog spread slightly thinned yellow mustard over dog. Cover with Coney sauce then top with onions. Additional mustard may be added, however, cheese or KETCHUP is never allowed; lets leave that to the people in ohio, ok?
Questions & Replies

Just lost a competition with a fantastic Mexican chili. Second ingredient? Chilies. Planning on losing again with this one. This was the only recipe I've seen that even looks close to what I remember in flavor and texture. Number one was that delicious disgusting glaze that appears on the chili about 2 minutes after placement- it definitely had additional fat. A lot of it. I'm wondering if you found additional tweaks in your research that you have left out that might be fun to play with.

 

Hey Everyone, native Detroiter here with an important question. Believing personally that the coney sauce(like the recipe here) is maybe the most important part, you've got some other components to assemble. The steamed enriched white bun, the chopped onions(Vidalia or Spanish white), the griddled pork/beef natural casing hot dog….but nobody ever talks about the mustard sauce. It's not just a standard out of the bottle French's or other. When you're sitting at Lafayette or Duly's, etc it's usually in a big bowl and is scooped with a large spoon. It has a more sauce like consistency than mustards in the squeeze container. Any thoughts on this?