d531107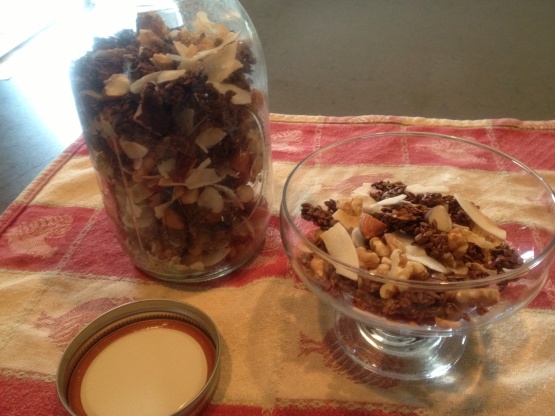 From Lyn-Genet Recitas' book, The Plan. She says, "Making your own flax granola is very easy. You can double the amounts of ingredients if you wish, to have more granola on hand." You may use any amounts or combination of dried fruits and nuts as the ones listed below are suggestions. Prep time doesn't include the overnight refrigeration. Where no amount is indicated it is "to taste".

Great recipe! The Plan is a very good book if you're looking to figure out what foods trigger weight gain and inflammation. I have doubled this recipe and I use cinnamon, ginger, nutmeg and cloves. I've always forgotten the vanilla for some reason. The last ten minutes I add cut up walnuts, almonds, Brazil nuts and coconut flakes (thick shaves). If I add raisins or dried cranberries I do so when it comes out of the oven so they don't break my teeth. This one is a keeper. I eat it 1/2 cup with 1/2 cup of rice flakes, rice milk and frozen blueberries. Great breakfast. Thanks!
1. Combine the flaxseeds with water seasoned with cinnamon and the other spices as desired. Refrigerate overnight. Spread in a thin layer on a baking sheet and bake at 275° F for 50 minutes to an hour, turning several times to dry out.
2. Optional: during the last 10 minutes you may add raisins, nuts, and other dried fruits of your choosing.