Five-Spice Moroccan Coucous Salad
Prep 15 mins
Cook 15 mins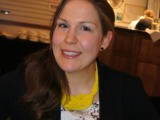 Heady Moroccan spices add an exotic touch to this colourful salad bursting with flavour.
Directions
Heat 1 tbs of the peanut oil in a saucepan over medium heat. Add the turmeric, cinnamon, ginger, cumin, cayenne and couscous. Cook, stirring until fragrant, about 2 minutes, being careful not to burn. Stir in the stock and bring to a boil. Reduce the heat to very low, cover and cook until all liquid is absorbed, about 5 minutes. Remove from the heat and let stand for 5 minutes.
Transfer the couscous to a large serving bowl, using a fork to fluff it up. Set aside.
In a small bowl, combine the remaining 3 tbs of peanut oil, orange juice, brown sugar and salt to taste. Stir to blend well and set aside.
The the couscous, add the chickpeas, onion, capsicum, dates and raisins, Add the dressing and toss gently to combine well. Garnish with coriander and peanuts.
Most Helpful
Delicious! The spices really, really shine in this couscous, and all the flavors are subtle, but really come together into something that I think might just be magic. Thanks for sharing this!

Just for the 'halibut' Igot out my ol' mortar & pestle & although I didn't use it on all the spices in this recipe, I did grind down cumin! As enjoyable as it was, for the most part I'll just stick with the pre-packaged ground sipces that are so easy to come by! Made this recipe ALMOST as given, but I did like what JanuaryBride did when she made it (adding some dried apricots) & since we do like apricots . . . Absolutely great tasting salad, & something I'll be making again! Thanks for sharing the recipe! [Made & reviewed for one of the ZWT6 challenges]
This was dinner tonight along with Recipe #423641 and pita chips for a delicious and healthy dinner. I liked everything about this salad - the colours, the texture, the brightness, the sweetness - it was all happening. Nicely seasoned and just enough acid from the orange juice. Thanks.