Five (Or Maybe Six) Ingredient Peanut Butter Oatmeal Cookies
Katzen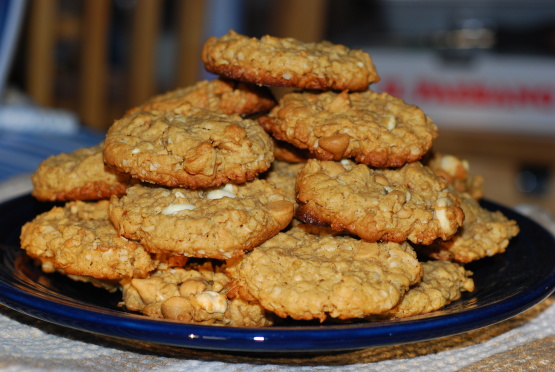 These make a crispy cookie and are quick to throw together on those spur of the moment cravings or when a family member says "oh by the way I'm supposed to bring a couple dozen cookies to school/work today". This makes 2 dozen cookies. Great for beginning cooks! **Updated 3/5/2010 based on the first reviews I've adjusted the name and the ingredient list to add the the option of a 6th ingredient of using chocolate chips to the mix.

A very yummy cookie recipe!!!!
The dough was thick and easy to work with and the cookies came out chunky, chewy and very tasty! I luved the peanut butter flavour with the hearty oats and chocolate chips. Mmmm!
I used an organic all natural (no sugar added) peanut butter and a milk chocolate. Reduced the sugar to 1/4 cup and found they were perfectly sweet like that.
I made very big cookies endind up with 11 from the full recipe, which I had to bake for 11 minutes.
THANK YOU SO MUCH for sharing such an easy and yummy recipe with us, Hokies!
Made and reviewed for WTTM Tag Game August 2010.
In a bowl, cream peanut butter and brown sugar until fluffy.
Beat in egg to the creamed mixture.
Add oats and baking soda and mix well. Add chocolate chips in this step if using this ingredient.
Drop by tablespoonfuls about 2 inches apart onto GREASED baking sheets. Flatten slightly (if you skip this you get mounds as they do not spread much).
Bake at 350F for 6-8 minutes then let cool completely on wire rack before storing.