Five Minute Sweet Peppered Cabbage
PaulaG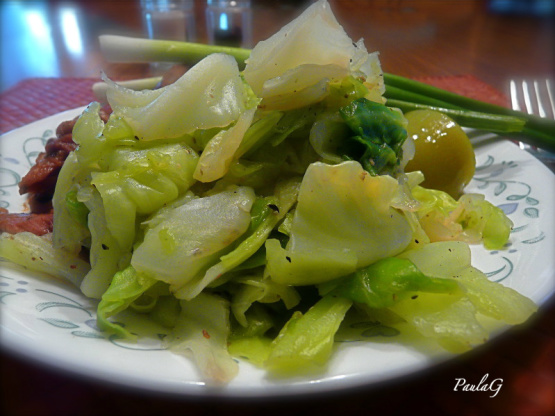 This is a good, basic way to cook cabbage. Sweetened by cooking in generously salted water (believe it or not), meltingly tender and sparked with tasty vinegar and black pepper, this cabbage is good hot or at room temperature. And it holds a week in the refrigerator! Adapted from HGTV website.

Top Review by WiGal
Really enjoyed this as it cold and rainy here. I used balsamic and thought it a perfect match. We love cabbage. Thanks Sharon for sharing.
Drop cabbage in boiling water. Once it's back to boiling, cook 3-5 minutes, or until just tender.
Drain in a colander and, while still hot, toss with vinegar, generous amount of black pepper and salt to taste. Cabbage should have a pleasing tartness and a nice snap of pepper. Serve hot, warm or at room temperature. Good with fish, meats or poultry, especially anything grilled.