Filipino Pandesal Bread ( Bread Machine )
sdalisaymo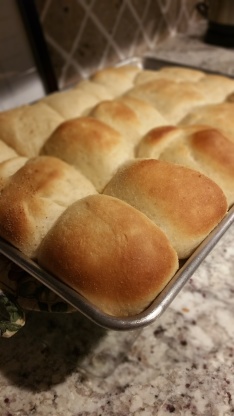 This recipe is from the Philippines. It makes the best rolls ever! They are wonderful fresh from the oven, with a little butter or some jam. They also freeze very well, so don't worry about any leftovers (if there are any!). Time to prepare the dough and rising time are not included. SOURCE: WWW.

Hello, this is the first time I ever rated anything online but felt inspired today. I just made this pandesal recipe exactly as written and they came out perfect and authentic! My parents are Filipino and I grew up with my father making pandesal from scratch. Especially during the holidays. My father passed away this year and I wanted to honor him by making his favorite pandesal. I have never made them before and I came across this recipe from Najwa. I'm excited and surprised that they taste "just like my Dad's pandesal." My mother, brother and sister are coming to my home for Christmas and they will be surprised! Thank you Najwa for sharing your recipe.
Combine the water, evaporated milk and milk and heat in the microwave for 35 seconds. Run tap water over the egg for 30 seconds to warm it.
Add all ingredients (except the bread crumbs) in the order suggested by the manufacturer.
The dough is supposed to be somewhat sticky (when I made this recipe, it was not sticky but it turned out well anyway).
Spray two baking sheets with non-stick cooking spray; preheat oven to 375 degrees.
When the dough is ready, scoop out a small amount (about the size of an ice-cream scoop) and roll in bread crumbs in an oval shape; place on baking sheet.
Cover and leave to rise in a warm place until doubled.
Bake for 10 to 15 minutes, until golden brown.