Filet Mignon W/Balsamic Syrup & Boursin Cheese
troyh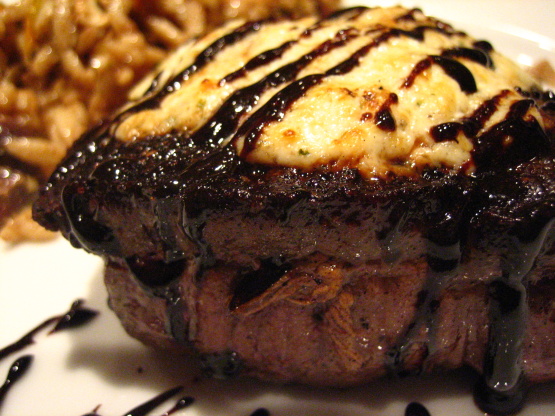 One of my favorite foods. I've had this at my good friend's house with baked potatoes, asparagus and fresh baked bread. A meal to die for! Delicious! Update -09/15/2009: Since some reviewers have had trouble with the balsamic syrup - I suggest that you don't make the syrup and make a slight glaze with the balsamic vinegar and serve it with the filet mignon and the Boursin cheese & since I can't change the title of the recipe I suggest you do that.

The cooking of the steak worked out perfectly, and I loved the cheese on top. I had the same problem with the syrup as one of the other reviewers though. It smelled really good as I was cooking it, but by the time it had reduced to the proportion in the recipe, it was too thick, and as soon as it cooled, was far too sticky and toffee-like, and even hardened like a hard candy - I was afraid I would have to throw my pot out. The next time I make it, I think I will just do a balsamic reduction, and omit the sugar.
Preheat broiler.
Boil vinegar and sugar in a heavy small saucepan over medium-high heat until reduced to 1/3 cup, stirring, occasionally, about 18 minutes.
Meanwhile, melt the butter or margarine in heavy large skillet over medium-high heat and infuse the butter with garlic, about 1 minute.
Sprinkle steaks with salt and freshly ground black pepper.
Remove garlic from pan.
Cook steaks to desired doneness, about 3 minutes per side, for medium rare.
Transfer the steaks to a baking sheet.
Crumble the cheese over the steaks and broil just until the cheese melts, about 1 minute.
Sprinkle again with pepper.
Transfer steaks to plates.
Drizzle the balsamic sauce around the steaks, garnish with parsley, and serve.
Enjoy!