Figs With Goat Cheese and Port Syrup
Rita1652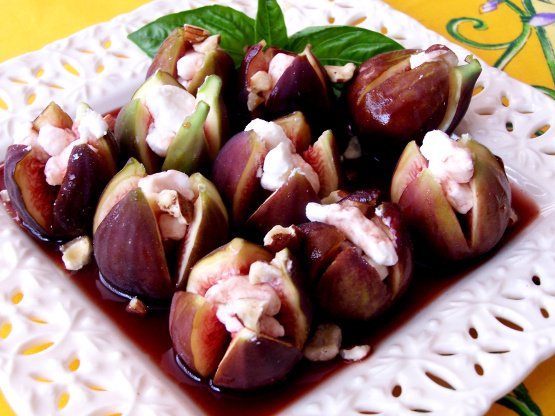 My father loves figs. He actually grows them in his backyard and when he "lets" me have some I will make this as a dessert. I happen to love goat cheese and between the two of us, we both love port. Everyone seems satisfied at the end.

Top Review by Mia 3
Mmmmmm, I just love figs, have a fig tree in my front yard and two in my dad's backyard. I'm always looking around for different recipes with figs. The moment I looked at this recipe, I knew I couldn't go wrong with it. Fresh goat cheese, honey and a good Port , all you have to do is munch them down!!! YUMMMMY! Thanks for posting,
1

cup ruby port

6

tablespoons honey

6

ounces soft fresh goat cheese

8

ripe figs
1⁄2 cup walnuts, toasted and chopped
In a small saucepan, over medium-high heat, bring the port and honey up to a boil.
Reduce heat and simmer slowly until reduced by half.
Set aside and cool to room temperature, the syrup will thicken upon standing.
Cut the goat cheese into 8 equal pieces, about 2 teaspoon each and roll each piece into a ball.
Place the figs upright and carefully make four cross cuts, slicing each fig into eight sections, BEING CAREFUL NOT TO GO ALL THE WAY THROUGH.
Gently separate the figs outward to form a "flower"
Place a ball of goat cheese in the center of each fig and drizzle with the port syrup.
Garnish with walnuts.