Fig Jam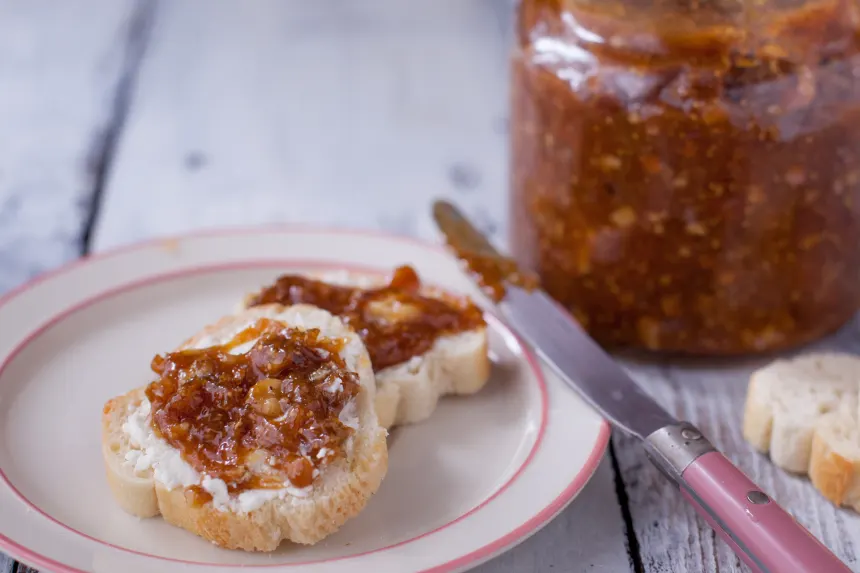 photo by DianaEatingRichly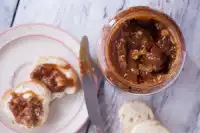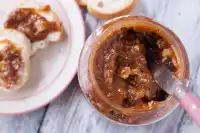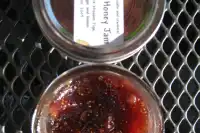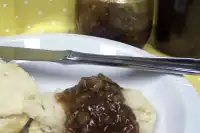 Ready In:

2hrs

Ingredients:

4
directions
Add figs, honey, and lemon juice to medium size saucepan.
Bring to a boil, lower heat and cook until thick; approximately 1 hour, stirring frequently.
Add walnuts and cook an additional 10 to 15 minutes.
Pour hot jam into steralized 1/2 pint jars, put on cap, screw band firmly tight.
Process in boiling water bath for 10 minutes or as recommended for your altitude.
Questions & Replies

Reviews
I am rating this 5 stars based on the second time I made this. Both times I used the ingredients as listed however the first time I cooked it for an hour but I use a wide saute pan which must evaporate at a higher rate because it cooled as hard as a rock - could hardly get a spoon into it. The second time I used a candy thermometer and took it off the heat when it hit gel point at 221 degrees (after 25 minutes) and it is a perfect consistency. Also, I didn't like the waste of peeling the figs so the second time I just removed the stems and sliced the figs and just before adding the walnuts I used an immersion blender and amazingly it just pulverized and incorporated the skins into a beautiful coloured jam but amazingly left the fig seeds whole. A very lovely looking and tasting jam. Thanks PaulaG!

 

easy to make and tastes very good. I will serve it with a blue cheese at Christmas. I believe in following a recipe exactly the first time and making notes SO - When I make it again, I will cut the honey to 1 cup, as it is far too sweet, I would also not bother peeling the figs but just cut them up and use the immersion blender as suggested by others

 

I would definitely follow the stir frequently rule for this and take it off when it's jam consistency. For beginners: you aren't making jelly, so you don't need a candy thermometer... when fruit jams/jellies/compotes/sauces cool they are at least as thick as when they're hot so take your cue from that. I, like many people commenting, didn't peel my figs; this may be why it didn't take my jam an hour to finish either as skin is usually one of the highest pectin parts of the fruit. For those who prefer jams that aren't super sweet, I recommend 3 tbsp of lemon and 1 cup of honey... this is how I did it and the fruit taste is amazing and dominates over the sweetness.

 

Turned out beautifully. Love the addition of the walnuts. I live in Spain, and there's a sweet "cake" that's made only of figs and walnuts, and you slice it to eat with goat's or sheep's milk cheese. This fig jam reminds me of that, and the flavours of the figs and the walnuts are so lovely together and complimentary. And I love that there's no simple sugar, but rather the more complex flavour of the honey (which we get from the bee hives on our land. I also picked the figs off my many fig trees on my farm). Thank you so much for sharing.