Fig, Prosciutto, Gorgonzola Salad
iris5555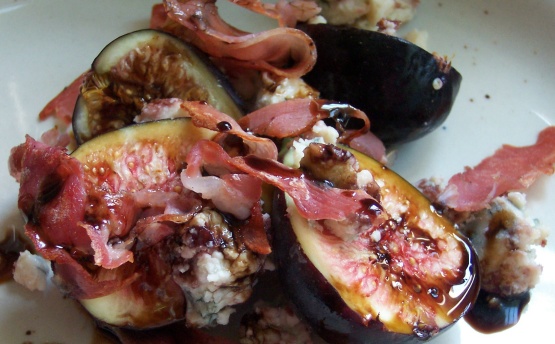 From Cooking Light. This is so simple and quick to make. I tried grilling the figs (thanks to Rita for the idea from her recipe for grilled figs--Grilled Figs Topped with Feta Cheese), before adding the remaining ingredients and I thought the salad was even better.
Combine first 4 ingredients in a small saucepan; bring to a boil.
Reduce heat, and simmer until reduced to 1/4 cup (about 8 minutes). Cool.
Heat a large nonstick skillet over medium-high heat.
Add prosciutto; sauté 3 minutes or until lightly browned.
Arrange 4 fig halves on each of 6 salad plates.
Divide prosciutto evenly over servings. Sprinkle each serving with 2 tablespoons cheese; drizzle with 2 teaspoons balsamic reduction.
Serve immediately.