loof751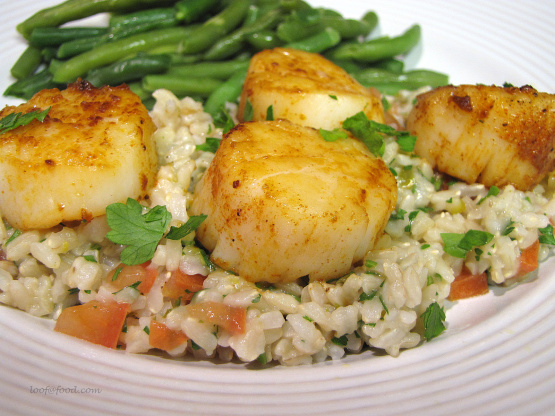 We haven't tried this yet, but I wanted to post it for ZWT8. I don't often find low-fat southwestern recipes, so I was excited to find this. Prep time includes cooking rice.

Very enjoyable scallops! The rice is wonderful, and I'll make it again just by itself. I'm a bit of a scallop-a-holic, and this is the first time I've used these seasonings on scallops. Delicious! Thanks for sharing. Made for ZWT8.
Pat scallops dry
Combine cumin, chili and black pepper in a medium bowl. Toss scallops in spice mix.
Heat oil in large skillet on medium heat. When oil is hot, add scallops. Cook for 2 minutes per side, undisturbed.
While scallops are cooking, combine hot rice with chopped cilantro, diced tomato, and jalapeno. Drizzle with lime juice and toss.
Serve scallops atop rice and garnish with cilantro if desired.