Fettuccine Gorgonzola With Sun-Dried Tomatoes
Parsley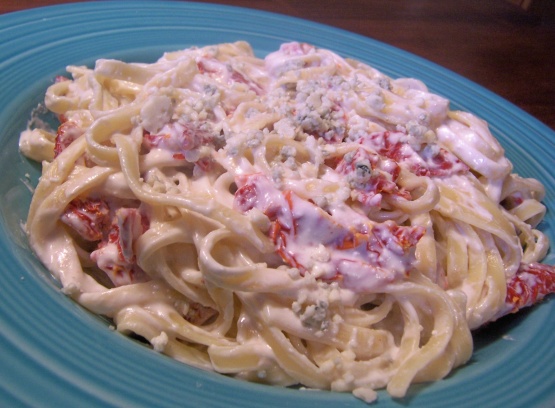 This for people who are confirmed lovers of gorgonzola/bleu cheese. If that's you, this should get you excited! It's quick and easy to make and very creamy and rich but the nonfat ingredients let you enjoy it without guilt.
Cover tomatoes with boiling water until softened. (5-10 min)Cut into thin strips.
Cook pasta according to directions, drain well and keep warm.
While pasta is cooking, combine cottage cheese and yogurt in blender or food processor until smooth.
Heat cottage cheese mixture over low heat.
Add gorgonzola and white pepper, stirring until cheese is melted.
Return pasta to saucepan.
Add tomatoes.
Pour cheese mixture over pasta and tomatoes and combine well.
Serve immediately.