An_Net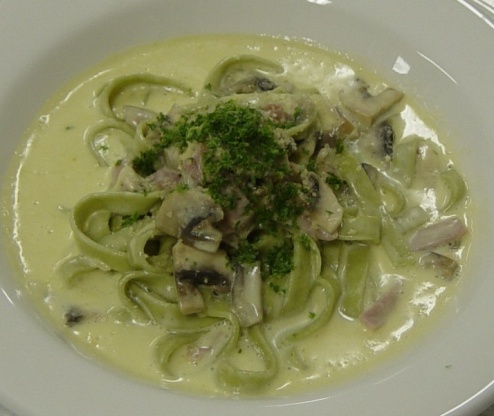 Bacon and mushroom cream pasta. Works with any type of pasta! I edited this after Ninna's review, since I also never use butter and don't think bacon needs to be cooked in butter. To make it lighter, use evaporated milk instead of cream. Aussie measurements (1 tbsp = 20mls)

Hubby announced he felt like some "creamy pasta" for dinner. I knew exactly what kind he wanted and cringed. The yummy creamy pasta that he seemed to only get in a restaurant. I have tried numerous times to recreate it only to fail. I announced last night that I would give it "one last shot" and finally found a recipe he LOVED! omg Thankyou for posting this! I have to admit I added a little more cream (and a tiny bit more cornflour because of the extra cream) (probably more for my sake thank his as I could just eat the sauce easily on it's own hehe) I forgot to add the parsley but it was still fantastic. When I was chopping and weighing the mushrooms I was thinking to myself that it was a lot, but they shrunk down when they were cooked and ended up being the perfect amount. I also used short bacon too as hubby's not a big rind fan. Thankyou again for posting this. FANTASTIC!
Heat oil spray in large frying pan.
Add bacon, onion and garlic. Cook until onion softens, stirring gently.
Add mushrooms, cook until golden.
Stir in cream, bring to the boil.
Reduce heat and simmer until sauce reduces and thickens slightly.
Add cornflour water, bring to the boil again then instantly reduce heat, stirring constantly as sauce thickens.
Stir in parsley and parmesan.
Salt and pepper to taste.
Pour over boiled hot pasta and mix.
Serve sprinkled with parmesan cheese.