lazyme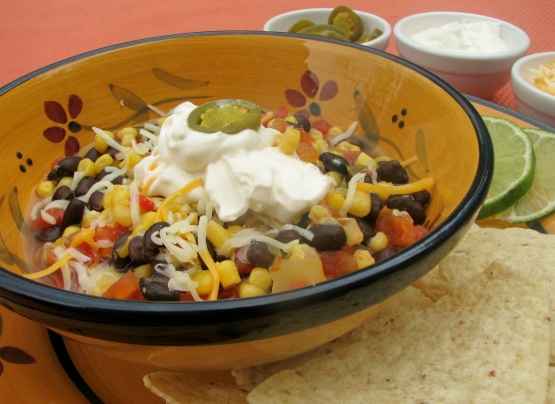 Found this recipe in Taste of Home and adjusted it to my family's tastes. Colorful soup quickly made from items usually found in your pantry. Fast fix for unexpected guests! Open cans, heat and eat! Spicy and yummy!

I was very unsure about this, but thought I would give it a try. It was amazing! I used the Rotel with cilantro, and I loved it. I sent some to my bf's work today for a coworker that I always send food for, and have already passed on the recipe to 3 friends! Thanks for the quick and great recipe, I will be making this a lot! Also, forgot to mention, I didn't drain the corn or beans, just threw it all in, juice and all.
Combine Rotel, corn and beans in saucepan and heat through.
Garnish servings with cheese and sour cream if desired.