Farmhouse Manicotti With Optional Meat Sauce
diner524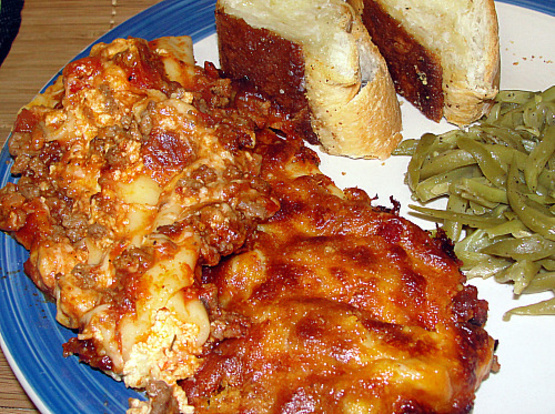 Seems kinda pointless to me, to go to all the trouble of making & stuffing the 'cotti's and then NOT have meat in the sauce. So I adjusted this found recipe from *Grandma's Kitchen* recipe cards, to include ground beef in the sauce. No complaints from the Peanut Gallery--and they're SO discerning an audience!
Yummo!!! I made this the other night for dinner. I made my own meat sauce using ground beef. My box included 14 manicotti noodles so I used them all, but realized there wouldn't be enough filling and don't think there would have been for the 12 either. I only had 16 oz. of ricotta so I added 16 oz. of cottage cheese with the ricotta and since I made my own sauce which included dry basil, I left it out of the filling, instead added dried parsley. This takes some time to come together, but so worth it!! I made 1/2 to eat for dinner that night and I have the other half in the freezer. Thanks for sharing the recipe. Made for PRMR.
Cook, rinse & drain manicotti as per package directions.
While that is cooking, brown the meat in a medium frying pan; rinse & drain for low-fat applications!
Preheat oven to 350; grease 13x9 pan; set aside.
Mix meat and spaghetti sauce; spoon 3 cups of sauce into bottom of greased pan; set aside.
In a medium bowl, combine THREE cups mozzarella with ricotta and basil.
Spoon mixture into a ziplock bag, cut off one corner, squeeze into pasta shells; lay finished shells into sauce in pan.
After all shells have been filled and nestled cutely together, pour remaining sauce over shells.
Sprinkle with remaining mozzarella.
Bake for 15 minutes; sprinkle with parmesan; bake for 10 more minutes.
Serve immediately. Yum!