Farmers Market Ratatouille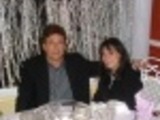 This is my mother's recipe for ratatouille, given to me almost 30 years ago. It makes wonderful use of the summer harvest of eggplant, tomatoes, green peppers and zucchini. It is delicious, colorful, and very versatile. It goes great as a side dish, with some cold roasted chicken, in an omelette, over pasta, or even in a sandwich! I don't know why, but I find this tastes even better a day later. I guess it gives the flavors a chance to really marry.
Directions
Lay the diced eggplant out on a cutting board and sprinkle with 1 t. of salt. Let sit for 10 minutes, then rinse away the salt and pat eggplant dry with paper towels.
Heal olive oil in a large skillet or Dutch oven over medium heat. Add onion and cook for 3-4 minutes until almost translucent, then add garlic and cook for another minute or so, until onions are soft.
Add in eggplant, yellow squash, zucchini, bell pepper, and fresh tomatoes; stir to combine thoroughly. Add canned tomatoes (including liquid), breaking tomatoes up with a wooden spoon. Stir in tomato paste, herbs, and seasonings. Simmer, uncovered, over medium heat for about 20 to 25 minutes, until all the vegetables are tender and the liquid has reduced slightly.
Most Helpful
Delicious! I scaled the recipe down, so didn't use the canned tomatoes. I had some spaghetti sauce so used that. I made 2 servings. Thanks for a great dinner! Made for PRMR game.

*Made for Australia/NZ Swap #66* Had all the fresh garden veggies except the eggplant, which was nice and firm at the grocers', so had a happy afternoon chopping and "sort of" measuring ! Everything went together in a jiffy -- made a ton, and had a great July dinner with grilled Italian sausage and fresh bread --(from Wegman's). DH and I thoroughly enjoyed and will be repeating as long as the garden holds out ! Thanks for posting, Jackie !