Farfalle With Sausage, Pine Nuts, Tomatoes & Spinach
Heidi F.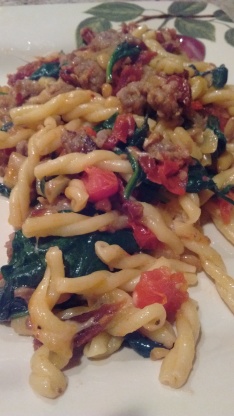 I made this up as I went along - it is so good! Ingredients are not exact, so use as much or little as you like.
Incredible recipe! I don't love sausage, but my fiancé is a huge fan so I looked for a recipe I might actually like with sausage in it. This dish is an absolute winner. Super easy to prepare and the flavor a all meld together for hands down the best meal I've cooked in a long time!
Cook farfalle according to package directions. Drain.
Heat olive oil in a large, heavy skillet.
Add garlic, and sauté until fragrant (about 3 minutes).
Add pine nuts to garlic, and sauté 5 minutes.
Add onion, sauté until soft (3 minutes).
Add mushrooms and sauté 3 minutes.
At this point you may need to add more olive oil if mixture is dry.
Add red pepper flakes, sun-dried tomatoes, and cherry tomatoes, and salt & pepper to taste. Sauté mixture while sausage is browning, stirring occasionally.
In a separate skillet, brown sausage until cooked through. Add sausage to vegetable mixture. Blend well, and sauté until mixture is moist but not soupy.
Fold spinach into the mixture. Remove from heat once spinach begins to wilt.
In a large bowl, combine farfalle and sausage/vegetable mixture.
Stir in parmesan cheese. Blend well.
Spoon into pasta bowls or plates and top with additional parmesan cheese.