Even a Kid Can Do It Perfect Fried Eggs
lazyme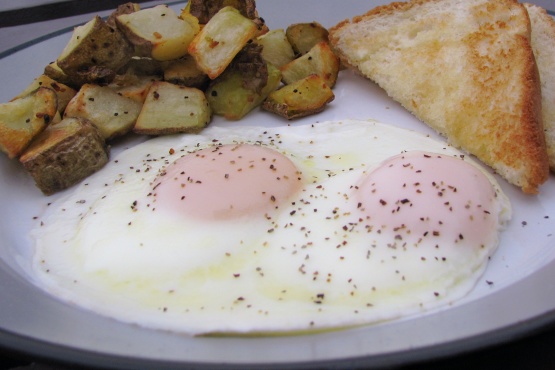 My son has always been a breakfast food lover. He could eat it morning, noon, and night. When he was about 10, he wanted to learn to cook his favorites, but he just could not get the hang of frying eggs. They would always break or stick to the pan etc. So I came up with this easy way to make foolproof eggs. I had forgotten all about it--this was over 10 years ago. But when I recently went to his house to visit, he was cooking, and he still makes his eggs like this.

I've been making my fried eggs this way forever. Or at least since my great father-in-law taught me to do it shortly after I married his son. It's not fool proof though. You can end up with hard yolks and runny egg whites (I HATE that!) but with a little practice, mastering the heat ( I cook mine on medium high and I wait until the whites are just a little brown around the edges) and for sure, clear lids for your pans are key to making perfect eggs every time.
Use a nonstick frying pan with a tight fitting lid.
Melt margarine over med to med high heat.
When bubbly, carefully break eggs into the pan.
When the whites are good and white, add the water next to the eggs and immediately cover with the lid.
Give the pan a good shake to loosen eggs from pan.
Cook until yolks are to desired doneness.
Slide the eggs out of the pan onto your plate.