English Muffins With Eggs, Cheese and Ham
BecR2400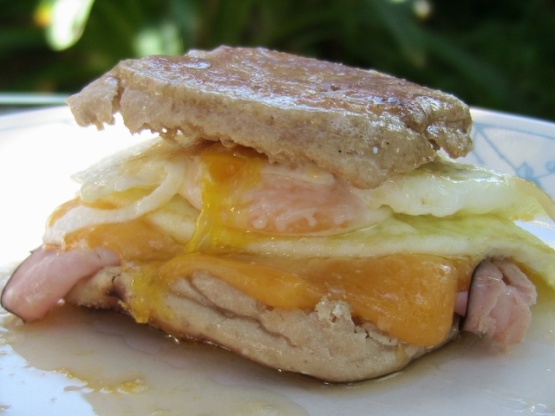 Well you know the popular breakfast sandwich that starts with a Mc. Well here is my version. I get a few orders of these when they are on special at work.

Love 'em. For a shortcut, I heat the ham in the microwave while the muffin is toasting. We like our eggs over easy (and 2 eggs per sandwich!), then pour the lightly browned pan butter on them before serving. Messy but good! Thanks for posting this winner---better than Mc.
Toast the english muffin and butter.
Meanwhile, heat a frying pan, spray with cooking spray or coat with oil or butter. When hot enough crack the eggs into the frying pan and pop the yolks, (you can even beat them if you want), cook until fully cooked flipping about 1/2 way through. Top with cheese slices.
Cut ham slices into 4 and heat in the frying pan.
Top english muffins with ham, and one egg and cheese.
You can also use crisp cooked bacon or sausage patties or even links that have been butterflied.
Serves one or two.