English 15th Century Poor Knights of Windsor - Boozy Toast!
MsSally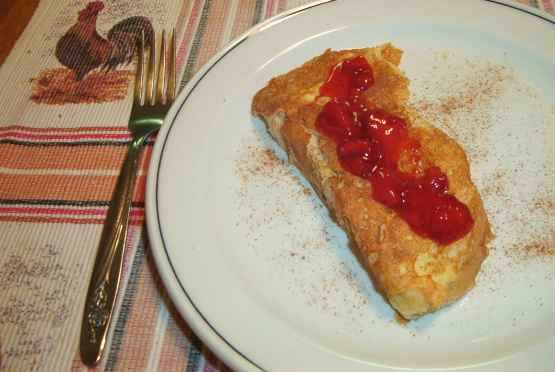 This dish originated during the middle ages in England and spread all over the world with many variations. Traditionalists would use stale bread, but stale cake is a good substitute. Red wine can be used instead of white, and you can add milk, as I have done here, you then have a more recognizable dish called, incorrectly, French toast. The Poor Knights of Windsor, incidentally, was a military order formed by King Edward III in the 14th Century.

Well I have to admit I took the Boozy out of this toast. I used apple juice instead of wine. I also used egg beaters instead of real eggs. Loved the double dip process. This made the toast nice and eggy in the middle and crispy on the outside. The juice added a mellow sweetness. I enjoyed it with both homemade strawberry preserves and maple syrup. Thanks for the great recipe. I think this will be my go to french toast recipe. YUMMY!
Remove the crusts from the bread and cut each slice in half.
Place 1 tablespoon of the sugar, the milk, white wine and sherry in a shallow dish and stir to dissolve the sugar.
Place the egg yolks in a shallow dish and beat well then dip the slices of bread in the milk mixture and then into the egg yolks.
Melt the butter in a large frying pan and fry the bread until golden brown on both sides. Drain well and keep hot while the remaining pieces are fried.
To serve - sprinkle with sugar and cinnamon and serve hot with strawberry or raspberry jam.